Why Antibiotics will not cure an Ingrowing Toenail
Many new customers attend our clinic with longstanding, painful ingrown toenails. They have often been back to see their GP 4 or 5 times, and at each time have been given another course of antibiotics to try to resolve their ingrowing toenail. While the antibiotics dulled the inflammation, once the course was completed, the inflammation and pain returned.
The problem is that an ingrowing toenail is caused by a spicule of nail growing into the surrounding skin, which then causes inflammation and exquisite pain.
Antibiotics will not remove the spicule of nail only your podiatrist can.
Ease the pain of your tender ingrowing toenail by allowing our specialists to provide a quick & permanent solution to your toe problem.
At The Forest Foot & Health Clinic, we have a highly experienced team of 3 full time podiatrists who can provide treatment for painful ingrown toenails or infected toenails, where required 6 days per week.
We are the number one goto clinic in the New Forest with over 20 years of experience in toenail operations.
Why Choose Us?

We have 3 full time, fully qualified, experienced podiatrists.

We are open 6 days a week.

We are open until 8pm on 2 evenings a week to give you full flexibility of appointments.

We have 4 clean, modern clinics, prepared & ready to treat your ingrowing toenails as quickly as you would like.

The nail avulsion is quick & successful & you will leave the clinic walking pain free again.

We will perform all re-dressings until your toe is healed and you are completely happy with the outcome.

We will write to your GP & inform them of the successful outcome.

We have been undertaking these operations for over 20 years at the Clinic

We undertake many ingrowing toenail operations each year and have a 100% customer satisfaction rating
We guarantee your complete satisfaction & a pain free toe!
Treating Painful Ingrowing Toenails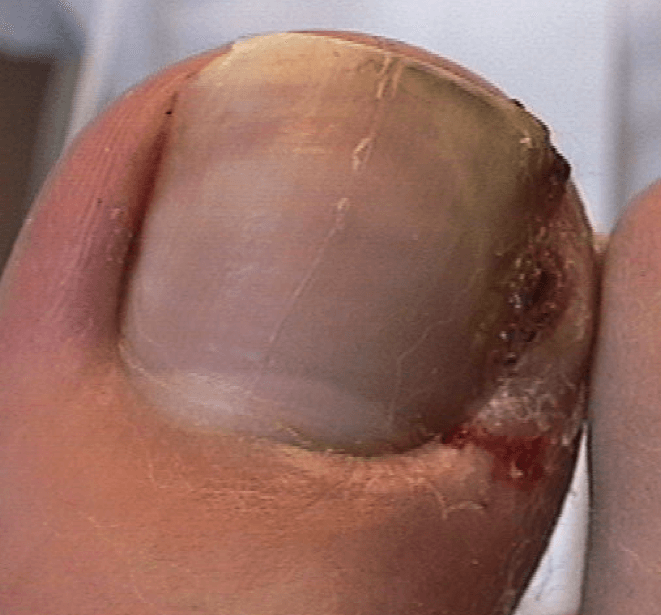 Put your trust in our highly respected team, who are valued by general practitioners in our area. Clients are frequently recommended to us by their doctors, who are happy to inform patients of our services.
We offer a highly successful treatment, which consists of cutting back your painful ingrown toenail in order to remove the spike, thus encouraging the infected toenail to re-grow in a healthy manner.
You will also receive ongoing nail care advice, to prevent further toenail problems. There is a small risk of re-growth and, should this occur within 12 months of the surgery, we will undertake a revision of the surgery free of charge.
Testimonial See what one of our customers said about his ingrowing toenail
"My job involves a lot of walking as a local gamekeeper. I originally found The Forest Foot & Health Clinic on the internet. I had a severe problem with my toe (severe ingrowing toenail pain) which was giving me bad posture and bad back problems."
"After visiting my GP for a course of antibiotics, which did not work, I came here (The Forest Foot and health Clinic) and basically they sorted me out."
The Podiatrist removed the offending part of my toenail under local anaesthetic, painlessly and without problems and the whole area cleared up quickly.
"I would highly recommend the Forest Foot & Health Clinic to anyone"
What to expect at our clinic!
We can reassure you that all of our full time podiatrists are registered on the Health & Care Professions Council. They are fully qualified and experienced to provide ingrown toenail treatment.
As the largest Podiatry Clinic in the New Forest National Park, The Forest Foot & Health Clinic have a wealth of experience of these operations and successfully undertake a large number every month throughout the year.
We will explain the details of the ingrowing toenail procedure to you so that you are able to make an informed decision on how best to proceed.
Ingrowing toenails or infected toenails will not go away on their own. Nor will they clear up with antibiotics! Therefore we will anaesthetise your toe so that removal of the offending part of your ingrowing toenail is quick and painless.
Choosing Our Services
Don't wait, our caring professionals will treat your infected toenail or ingrowing toenail at your earliest convenience.
We have three full time trained podiatrists who are able to fit you in at short notice.
Receive peace of mind by entrusting our professionals to enhance your wellbeing.
Contact us, in Cadnam, Hampshire, to acquire more details about the treatment of ingrown toenails, including nail surgery.