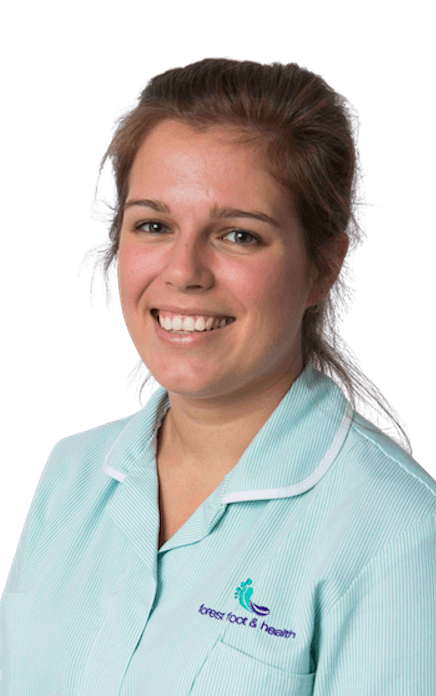 BSc(Hons) RCPod Registered on the Health & Care Professions Council
Daniella qualified as a podiatrist after her 3-year degree from Plymouth University.
Daniella joined us in 2017 after 1 year in the NHS and has become our senior podiatrist after only three years with us.
Patients benefit from her in depth knowledge of wounds and ulcers that she gained from working in busy NHS clinics in the Solent Area.
Whilst Daniella has a broad interest in podiatry she is also a keen netball player for Hotshots Bournemouth.
Daniella Doe – Senior Podiatrist
BSc (Hons) RCPod, HCPC Registered
BSc(Hons) RCPod Registered on the Health & Care Professions Council
I graduated in 2012 from Queen Margaret University in Edinburgh with an honour's degree in Podiatry. Since then I have gained many years' experience in both the NHS and private sectors.
As well as routine podiatry and providing footcare advice, I have an interest in the more specialist areas such as biomechanics/MSK, nail surgery and using the latest advanced technology for certain foot problems. I continue to update my knowledge and skill base by undertaking courses, attending branch meetings and conferences.
I also think an important part of the job alongside the podiatric treatment is getting to know the patients, listening to their needs and communicating effectively so that a tailor made treatment plan can be produced that suits the patient for optimum care.
Outside of work, I enjoy travelling, exploring the New Forest, Hampshire and Dorset coastline.
I am keen cyclist and ex ballet dancer, but still like to get on the dance floor. I also enjoy going back home to visit family and friends in Scotland and in winter during Christmas holidays I like to get back on to the ski slopes.
Nikki Brook – Podiatrist
BSc (Hons) RCPod, HCPC Registered