Nordic Walking in The New Forest
The Podiatry Team
Did you know that Nordic walking uses 96% of the body's muscles? Based on the same principles as cross country skiing, it uses the poles to work the whole of the upper body, is great for posture, joints and the core and is also a fantastic way of exploring this beautiful area in which we live with like minded people!
At The Forest foot and Health Clinic, in the heart of the New Forest, we have teamed up with Suzanne Madden, who set up a Nordic walking group club seven years ago, in order to encourage our patients to exercise more.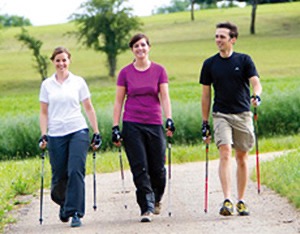 Our team of Podiatrists have been delighted to find a form of exercise to recommend to our patients which can work 96% of muscles simply by using the poles (with the correct technique of course!). Nordic walking perfectly enhances the work that our podiatrists do to help patients with foot, knee and lower back problems that are related to their biomechanics.
It is a fun, healthy way to get out in the fresh air, in beautiful surroundings, without having to drive far, and at the same time - to make new friends and maybe even loose a little excess weight!
For information about our biomechanics program, leading to the provision of orthotics and exercise recommendations, please call our reception on 02380 814903.
To find out more about Nordic Walking please contact Suzanne at nordicwalkingbrockenhurst@gmail.com or on 07903 772181 for further information.